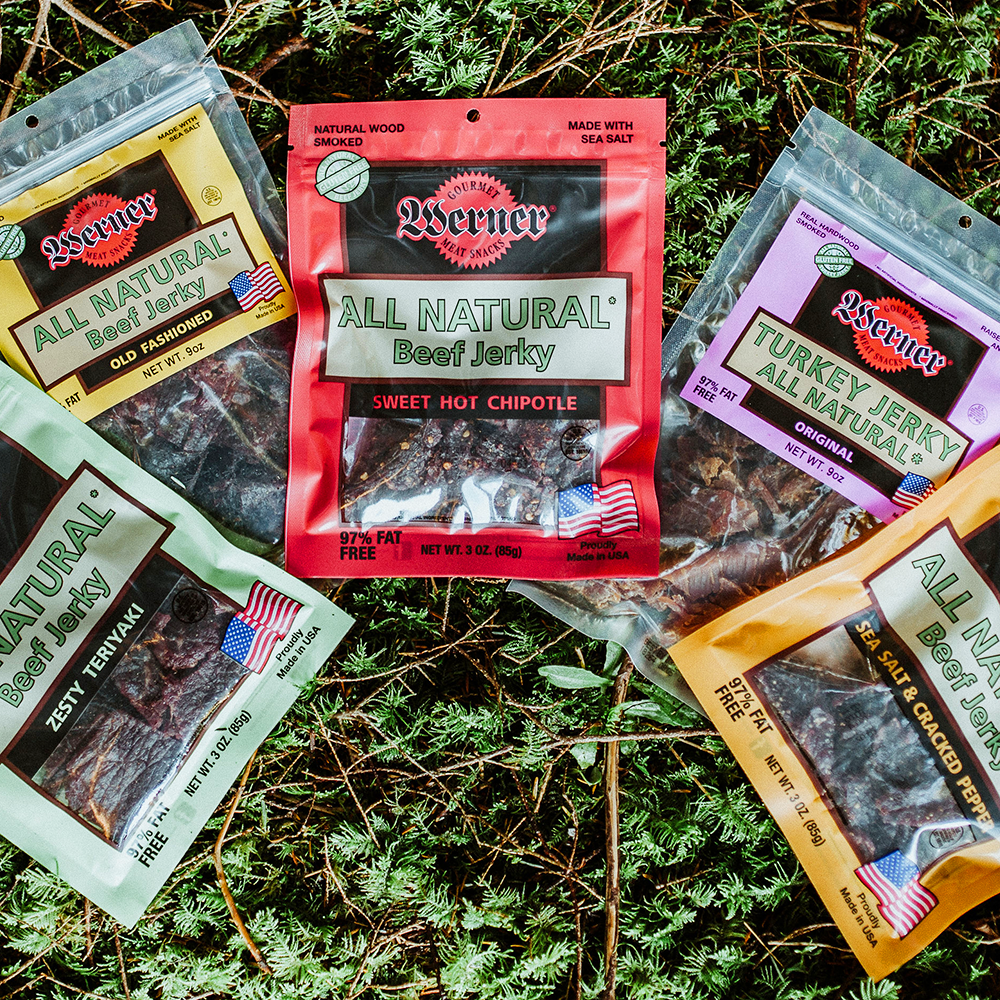 Werner Jerky is Now All, All-Natural
At Werner Jerky & Snacks, we're committed to a mission of providing the highest quality, best tasting jerky, meat sticks and snack products. For this reason, we shifted all of our whole muscle jerky to all-natural formulations at the beginning of the year. Basically, we have merged our conventional jerky and all-natural jerky lines into one all-natural jerky product. Did you notice the difference?
What does "all-natural" mean?
According to the USDA, "natural" can be used to describe "a product containing no artificial ingredient or added color and is only minimally processed. Minimal processing means that the product was processed in a manner that does not fundamentally alter the product. The label must include a statement explaining the meaning of the term natural (such as "no artificial ingredients; minimally processed")." (Source: USDA.gov) 
On Werner's All-Natural jerky products, when you see messages like "Minimally processed, No artificial ingredients" or "No nitrates or nitrites addedƚ" you can be sure that the product you are looking at is truly all-natural.
ƚExcept those naturally occurring in sea salt and celery powder
Why are we making this shift?
In watching the trends surrounding snacking and snack foods, we are seeing a shift in mentality about what snacks should do for us. Essentially, we want our food to do more for us. Meat snacks are high in protein and low in fat, making them the perfect choice for an in-between meal snack or even a meal replacement. At Werner's, we respect this trend and want to offer wholesome, healthful snack products with easy to read, clean labels.
A report from Fona International highlights how around 26% of 18-34 year olds in the United States are relating to the notion of preservative-free products. Additionally, more and more women are viewing meat snacks as a good source of protein and a quick snack for on-the-go busy lifestyles. These individuals are also looking for healthy snacks to provide for their families and all-natural meat snack products are the perfect choice.
At the end of the day, we are making the shift to all-natural whole muscle jerky recipes because of our adherence to the mission of providing the highest quality, best tasting jerky and snack products. We hope you continue to enjoy Werner All-Natural Jerky - Happy snacking!
Note: As we complete the transition to all, all-natural whole muscle jerky, we are working through our existing inventory and packaging. While the package may not say "all-natural," the product inside is*.
*One exception to this is the Original Beef Jerky, which will be moving to an all-natural formulation after June.